Getting Started: Match Test in Platform
Platform Match Test


Preview Your Expected Match Rate Before Purchasing. The ability to see how FullContact's data can enrich and enhance your data is a vital first step in a partnership.




The process is simple. You upload a file with your customers' data fragments and see what resolved data coverage we can provide. Our match test hits the API directly, so you know what you can expect when querying at higher volumes.





Right within our Platform, upload your data and see immediately how we can meet your enrichment, appending, or Identity Resolution needs. With the speed of our API and our Identibase graph powering it, you'll have the confidence in understanding how thoroughly we can help you find and understand your customers.



How it works

1. Head on to our new
FullContact Platform
to either sign in or log in using your FullContact account credentials.
2. Once you are on the homepage, click on 'Match Test'.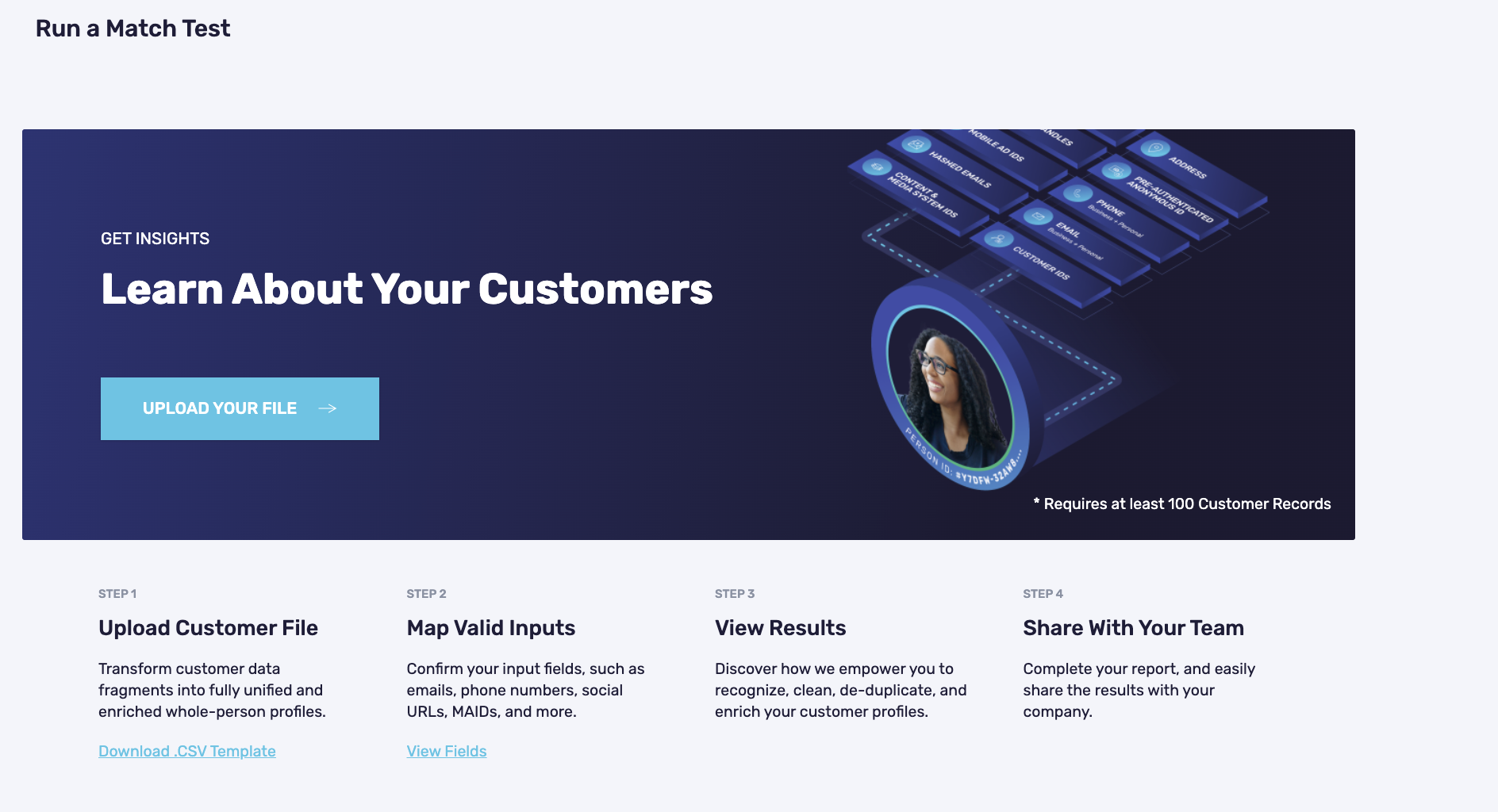 3. Upload a formatted
.CSV
file through the '
Run a Match Test'
section.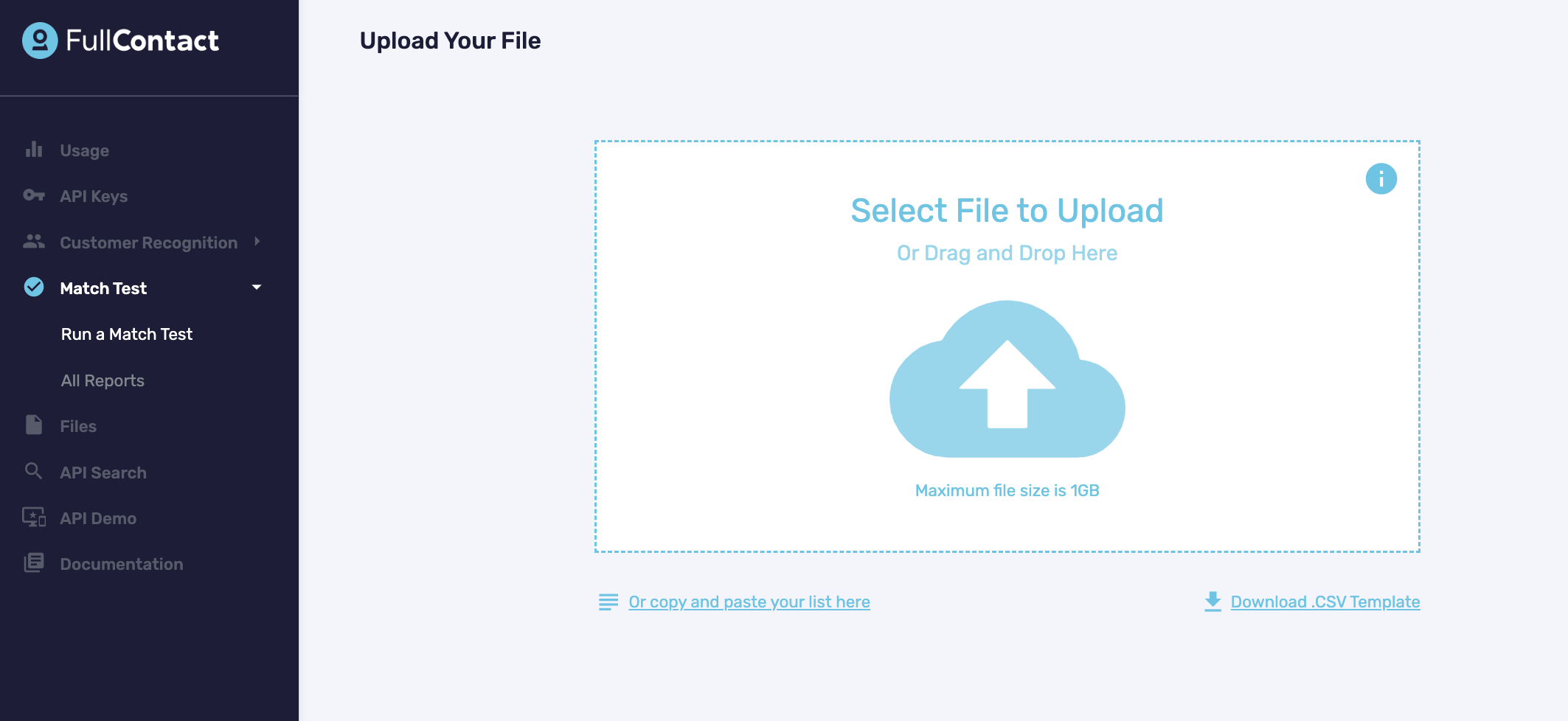 4. Instantly see match rates for each and every
Insights Bundles
that FullContact has on the
Reports
tab (the below screenshot shows purely representational values).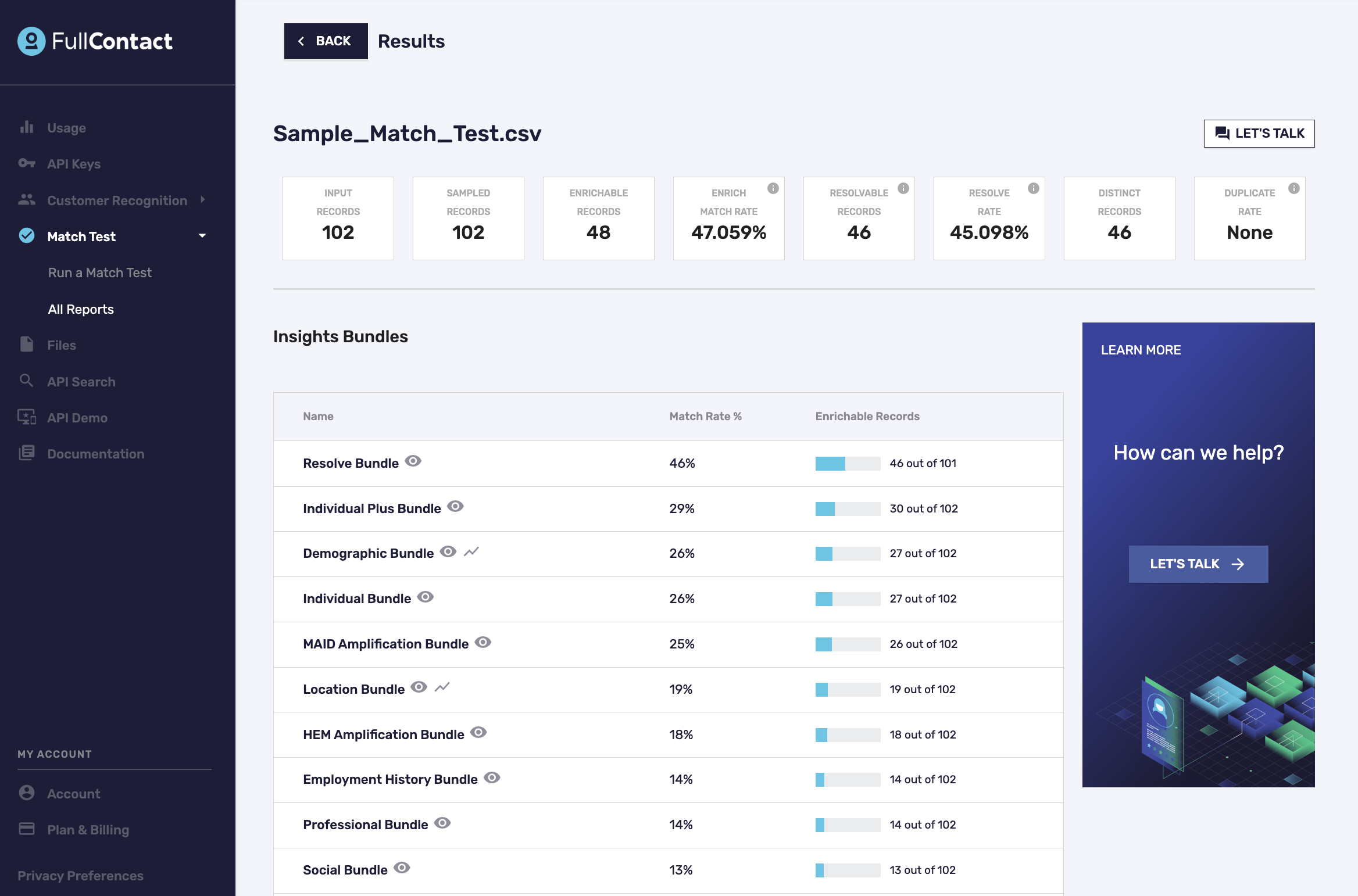 4. Discuss match rates with us for the Insights Bundle you need to solve your business problems.


5. Get those Insights Bundles enabled and start getting results!



Related Articles

Getting Started: Data Delivery

Real-time API a. Client sets up API integration with FullContact so that data can be delivered in real time into the application of their choice (e.g. CRM, automation platform, help desk software etc.). b. FullContact delivers the most recent ...

Getting Started: Insights Bundles

What are Insights Bundles? FullContact Insights Bundles offer a variety of attributes that provide you with even more valuable insights to help better understand the whole person. Person Insights Bundles are a feature within Enrich that enable you to ...

Getting Started: Multi-Field Request

What is Multi-Field Request? Multi-Field Request is a feature enhancement to our Enrich API launched on July 1st, 2019. It adds the ability to match multiple input fields that may be available instead of just one. Using multi-field requests, you ...

How to Add and Update Email in Platform

→ Changing Account Email Addresses on Platform Login to your Platform Click on 'Account' placed at the bottom left of the navigation panel. Click on the Edit option available beside 'Email' Click 'Add Another Email' Enter the new email address in the ...

How to Opt Out of Marketing Emails

Login to your Platform. Click on 'Account' at the bottom left corner. Click 'Email Preferences' 4. Toggle the Subscription status to 'Off' to stop receiving the Marketing notifications.